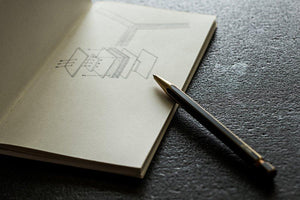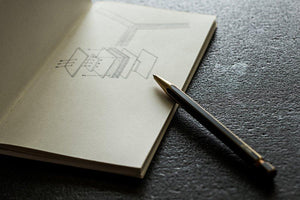 On Sale
Classic Revolve-Ballpoint Pen (Spring)-Black
Ballpoint Pen (Spring)-Black
DESCRIPTION
Simple, black, with a hint of metal. With the pen's spiral exposed on top, the designers of YSTUDIO combine the mechanics of a pen with the distinctive looks of the collection. Due to its heavy material, the pen is sure to provide stability while writing. 
SPECS
Material: Brass
Dimension: 9.5 x 9.5 x 138 mm
Weight: 33g
Box: 185X80X20 mm
Refills: Parker type ballpoint pen refill (Incompatible with gel ink refill)
USE & CARE
You can create a personalized brassing effect by removing the paint on the surface with sanding paper which is attached in the product's package.
For buying extra refill please select "Schmidt P900M" or "Schmidt EasyFlow 9000".


ENGRAVING SERVICE
YSTUDIO now offers Engraving Service, a very popular and unique option that many of our customers select for. Engraving makes for a super gift and, of course, a special way to personalize your ystudio stationery.


Note: You can choose Up to 15 letters, including English characters and Numbers.