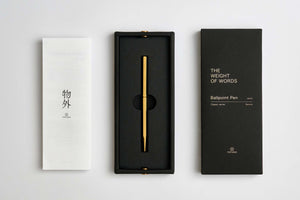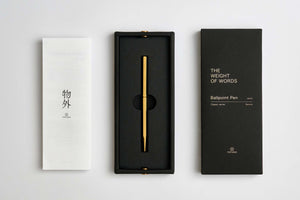 On Sale
Classic Revolve-Ballpoint Pen(Slim)
Ballpoint Pen(Slim)
DESCRIPTION
This slender ballpoint pen uses a twist-action mechanism, which is the most direct way to use a pen.
It's simple and durable. You can enjoy this pen during your travel or daily use.


SPECS
Material: Brass
Dimension: 7x8x123 mm 
Weight: 20g
Box:185X80X20 mm
Refill: Cross Type Ballpoint Pen Refill
USE & CARE
The color of brass would be changed by different users and various environments yet this is also its unique feature. The oxide is harmless. It would restore its original luster by wiping with Brass Polish. Without any surface treatment, we hope each product can maintain its individual marks by the constant use of the owner.
Please experience and enjoy this one-of-a-kind beauty of brass.
For buying extra refill please click HERE!


ENGRAVING SERVICE
YSTUDIO now offers Engraving Service, a very popular and unique option that many of our customers select for. Engraving makes for a super gift and, of course, a special way to personalize your ystudio stationery.


Note: You can choose Up to 15 letters, including English characters and Numbers.