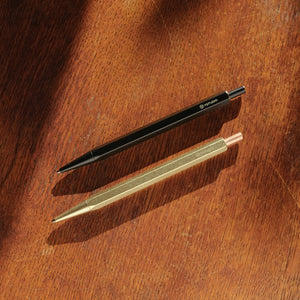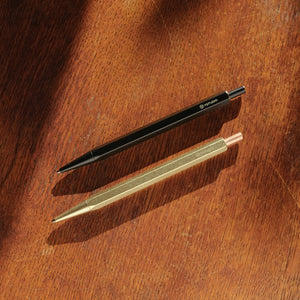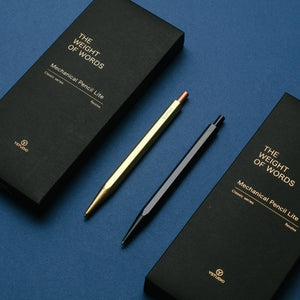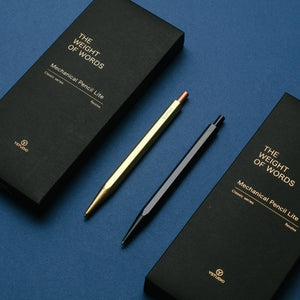 On Sale
Classic Revolve - Mechanical Pencil Lite - Brass
Classic Revolve - Mechanical Pencil Lite -  Brass
DESCRIPTION
Combining lightweight design with remarkable stability, our Mechanical Pencil Lite offers a harmonious blend of simplicity and delicacy.

Offering a great sense of balance and stability for your writing experience, the brass element endows the Mechanical Pencil Lite with a unique high-quality texture, ensuring a truly high-quality aesthetic.

Brass hexagonal prism, providing a good balance and stability in your hands.

Inspired by the shape of a hexagonal prism, our aim is to ignite your enthusiasm as you hold our pen for the very first time, rekindling the sheer delight of both drawing and writing. The solid brass material and the length of the pen body are precisely tested to achieve the perfect proportions. Paired with a 0.7mm lead, this pencil delivers a subtly weighted feel, striking the ideal balance and stability, transforming it into a trustworthy companion for your creative endeavors.

Exquisite craftsmanship, creating an exceptional writing experience.

The grip area is designed with six enlarged C-shaped contours to enhance the grip sensation, allowing you to effortlessly hold the pen body.

The push button, mechanism, and tip have undergone precise design and testing to securely hold 0.7mm lead.

The pen body features a sleek and slender diameter, catering to the needs of all users.

The barrel boasts a generous capacity, allowing it to effortlessly accommodate up to 10 lead refills, alleviating any concerns about running out of leads.
SPECS
Material: Brass, paper packaging
Product Weight: 26g
Dimension: 8.5 x 9.5 x 131.5mm
Box: 185 x 80 x 20mm
Net Weight: 26g,  Gross Weight: 75g
Lead: 0.7mm

USE & CARE
The color of brass would be changed by different users and various environments yet this is also its unique feature. The oxide is harmless. It would restore its original luster by wiping with Brass Polish. Without any surface treatment, we hope each product can maintain its individual marks by the constant use of the owner.
Please experience and enjoy this one-of-a-kind beauty of brass.
ENGRAVING SERVICE
YSTUDIO now offers Engraving Service, a very popular and unique option that many of our customers select for. Engraving makes for a super gift and, of course, a special way to personalize your ystudio stationery.


Note: You can choose Up to 15 letters, including English characters and Numbers.
Find more:
Customized & Personalized Service for Engraving Your Fountain Pen
The best customized fountain pen